Orv's Pot of Gold
For the fifth year running, Promoter Orville Chenoweth is offering the
Top 30 in National Points
, a chance at his
$10,000 Pot of Gold
. Drivers will need to be present each day of the
Speedway Motors WISSOTA 100
to be eligible. One luck winner will be awarded on Saturday Night of the event. Drivers in all 6 WISSOTA divisions will have an equal opportunity to win the money. The Pot of Gold is sponsored by Orville Chenoweth, the Huron Chamber & Visitors Bureau & Dakota Promotions.
Congratulations to 2016 Pot of Gold Winner,
Kevin Adams, Modified Driver of Cameron, WI!!
Congratulations to 2015 Pot of Gold Winner,
Shawn Reed, Midwest Mod Driver of Casper, WY!!
2014 Pot of Gold Winner,
Super Stock Driver, Curt Myers, of Cameron, WI.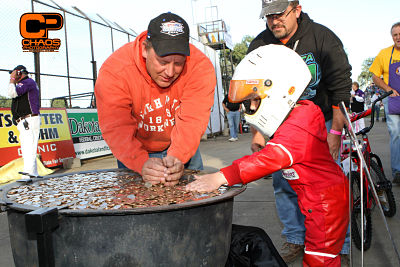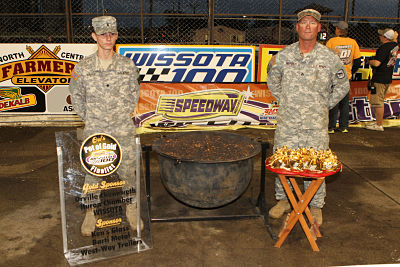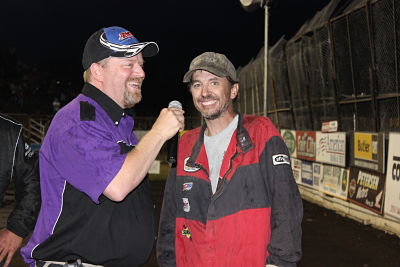 Jim Erdmann, Mod Four division, was drawn as the winner of Orv's $10,000 Pot Of Gold during the 2013 WISSOTA 100 on Saturday night!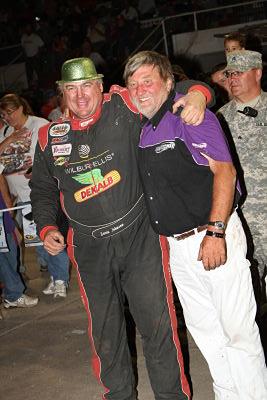 Lorin Johnson, was the lucky winner of Orv's $10,000 Pot Of Gold during the 2012 WISSOTA 100!
From Ed Reichert's Column (All the Dirt Magazine):
Orville Chenoweth's "Pot of Gold" was again a big hit with both the drivers and the fans. My congratulations to everyone who is involved in this promotion, as it is certainly unique and welcomed by all those drivers who qualify for it. I have not heard much about this promotion mentioned in any of the national trade publications and I find that surprising, since I think this promotion is so unique and clever. The drivers were as nervous as jumpy cats as they waited to hear whose name would be called out as the winner. Mod Four driver Jim Erdmann from North Dakota was the winner and he seemed like a deserving candidate for the extra cash.
From Jerry O'Brien's Column:
For the Pot of Gold, the 30 drivers who were eligible were whittled down to six, one from each of the six divisions. They were Jim Erdmann in the Mod Fours; Jordan Tollakson in the Street Stocks; Tyler Peterson in the Midwest Mods; Dave Mass in the Supers; Mike Stearns in the Mods; and Nick Beyenhof in the Lates. Erdmann, of Horace, ND, won the $10,000.